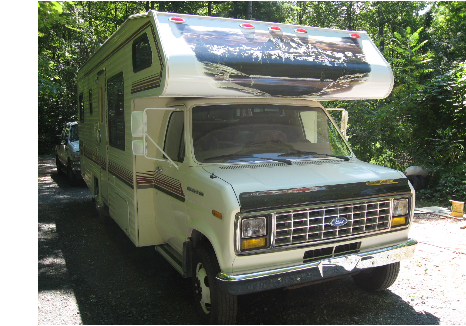 The rebuilding and set up of our RV was much more involved than we had anticipated
October 2014
We looked at many advertised RV's, which ranged from very expensive to very poor condition, before deciding on the one we bought. 26' class C 1989 Ford Econoline with less than 12,000 miles on it. New rubber roof, much refurbishing inside, especially the overcab sleeping area. Smelled a bit stale, but curtains and carpet were in surprisingly good condition.
Ruth drove me to Kingston to meet the owner, the trip back was uneventful, all systems and gauges worked normally. Outside mirrors were nearly useless even when adjusted, they were both too small, and poorly located.
Checking out the waste tanks and drains went well, one small leak at a gate valve. Pressurizing the supply lines was another matter. A small leak at the onboard pump was easily tightened, the major leak under the shower pan flooded the entire back half of the RV, soaking the carpet and padding and soaking the power supply. The previous owner had told us the water lines were blown out for winterization. In hindsight, it appears this was done with high pressure, blowing the connection under the shower pan apart. The wet flooring smelled terrible.
Initially we planned to rip out the back half of the RV, re-carpet and replace the bedroom cabinetry. This soon became a total tear out, we discovered extensive mouse nests under the toilet, and kitchen cabinets. We drew new interior plans and began rebuilding. New flooring, framing, paneling, pex plumbing, and wiring throughout. New shower tub, toilet, bathroom sink and vanity in the bathroom. In the kitchen a new countertop, cooktop, microwave, sink, three way refrigerator, dinette and desk area. Major system upgrades included DSI water heater, expansion tank, breaker box and water filter. The AC generator ran fine after a cleaning and tuneup, we added a new deep cycle battery box, extend a stay propane adapter, stabilizer jacks, trailer hitch, brake controller and 4 shock absorbers.